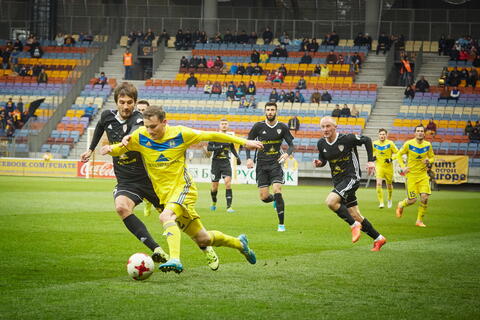 On the 30th of April the biggest professional football arena of the Republic of Belarus, Borisov-Arena (Borisov city), was hosting the Football match between the teams "BATE"- "SHAKCHTIOR". BATE and SHAKHTIOR football clubs are placing high within the country national football matches. Therefore the match got a very high attention among the football fans (approx. 5000 absolute football fans attended the match) and as well was life-broadcasted on the main national TV-channel.
Besides the strong sport component, this match had very important social focus. The match became the awareness raising component of the national preventative campaign "Dom bez nasiliya (Home without violence)" and the technical assistance project "Strengthening national capacity to counteract gender-based violence (with focus on domestic violence) in the Republic of Belarus".
The annual national campaign "Dom bez nasiliya (Home without violence)" is aimed at combating domestic violence and raising awareness off the public on the issue. To show the solidarity with the campaign  and during the match and as well  to showcase the role of the family within the topic of domestic violence the players of both teams put on orange bands and entered the welcoming ceremony with the 22 pupils of local schools (girls) and 4 young football players (boys). The fans and guests of the match also had the opportunity to support the activity with the raising the special "Stop the violence" flags.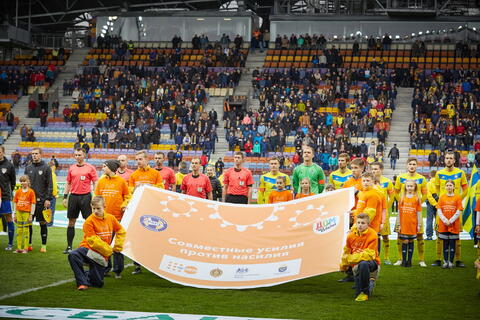 Prior to the match the fans and guests of the match had the opportunity to attend the presentation of the updated and enlarged UNFPA photography exhibition with the country opinion leaders devoted to the domestic violence prevention.
### ### ###
National preventative campaign "Dom bez nasiliya (Home without violence)" is conducted by the Ministry of Internal Affairs of Republic of Belarus, Ministry of Labour and Social care on the annual basis with the support of the UNFPA Belarus, UNICEF and other national and international partners. As per the opinion of the organizers, Campaign will give the opportunity to attract attention of the society and subject matter experts to the problematic of domestic violence. It will lead to the increase of the opportunities in terms of the provision of professional services to the victims and as well will strengthen the corrective action in relation to the aggressors.
Special focus on the importance of the preventative measures and intolerance of Belarussian society to the cases of domestic violence is currently the issue of a high priority. As per the data from the MIA, in the year 2017 (1st quarter) the 1/4th of the aggregated amount of murder-cases and intended bodily-harms were committed to the side of the family members. As per the data of the national representative (comparative) study conducted in 2014 found out that three out of four Belarusians (both women and men) have experienced domestic violence in their life.