UNFPA: Delivering a world where every pregnancy is wanted,
every childbirth is safe and every young person's potential fulfilled.
11 July 2017
Family planning: empowering people, developing nations
Dr. Natalia Kanem Acting Executive Director UNFPA, the United Nations Population Fund 11 July 2017 *** Every day, vulnerable women, especially those who are poor and are refugees, face social, economic and geographic obstacles to voluntary family planning services and information. Fifty years ago today, the then-Secretary-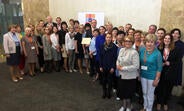 A story behind violence against women.
Presentation of the Project 'Seven' on womens rights
Final Report Initial assessment of the system of preventing and combating domestic...